Madonna al Renaissance Tour: la reazione di Beyoncé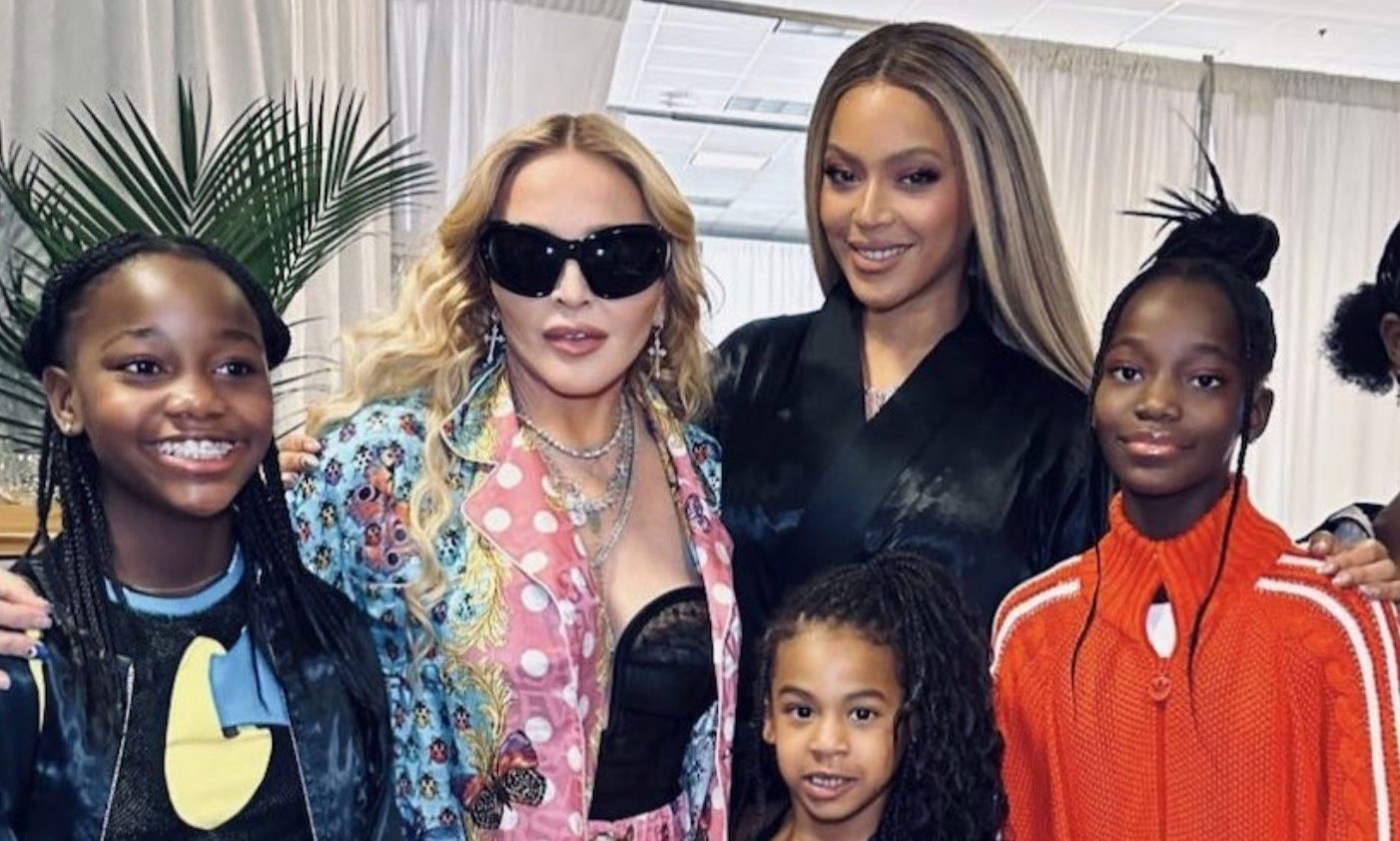 C'era anche Madonna fra gli spettatori del Renaissance World Tour di Beyoncé e l'artista è stata ben felice di avere la collega fra gli spalti insieme alle figlie.
Durante l'esibizione di Break My Soul (Remix), infatti, Beyoncé ha omaggiato Madonna cantando: "Shot out to the Queen. Queen Mother Madonna we love you!". Un trattamento decisamente diverso rispetto a quello che si è beccata Lizzo, cancellata senza possibilità di ritorno dopo lo scandalo che l'ha travolta.
Lizzo travolta da una bufera, pure Beyoncé la "cancella" dal suo tour https://t.co/J0JPMrZqgN

— BICCY.IT (@BITCHYFit) August 2, 2023
Ecco il video dell'omaggio a Madonna da parte di Beyoncé: con tanto di shackerata di parrucca.
🚨 Beyoncé, Madonna e seus filhos nos bastidores da #RenaissanceWorldTour pic.twitter.com/oWKiUbjaom

— BCharts (@bchartsnet) August 1, 2023
Madonna at Beyoncé's Renaissance World Tour in East Rutherford. pic.twitter.com/Rctb3X0tu8

— Pop Base (@PopBase) July 31, 2023
MADONNA & BEYONCÉ 👸🏼👸🏽 pic.twitter.com/dK7WokdHUV

— Beyoncé Brasil (@beyoncebrasil) August 1, 2023
Break My Soul (Remix), il voguing di Beyoncé
Queen Mother Madonna, I love ya
(Strike a pose, vogue)
(You know you can do it)
Rosetta Tharpe, Santigold (Vogue)
Bessie Smith, Nina Simone (Vogue)
Betty Davis, Solange Knowles
Badu, Lizzo, Kelly Rowl' (You know you can do it)
Lauryn Hill, Roberta Flack
Toni, Janet, Tierra Whack (Let your body move to the music)
Missy, Diana, Grace Jones
Aretha, Anita, Grace Jones (Hey, hey, hey)
Helen Folasade Adu, Jilly from Philly, I love you, boo (Come on, vogue)
Don't just stand there, get in to it (Let your body go with the flow)
Strike a pose, there's nothing to it (You know you can do it)
Vogue (Do it, do it, do it)
Ah (Ah-ah-ah, la-la-la, la-la-la-la-la-la)
Mother of the House, ah (Ah-ah-ah, la-la-la)
Michelle, Chlöe, Halle, Aaliyah (La-la-la-la-la-la, Mother of the house)
Alicia, Whitney, Riri, Nicki (Ah-ah-ah, la-la-la, la-la-la-la-la-la, House of Xtravaganza)
House of Revlon, House of LaBeija (La-la-la-la-la-la-la-la-la-la-la-la)
House of Amazon, the House of Aviance (La-la-la-la-la-la-la-la-la-la-la-la)
House of Balmain (Go with the flow), the House of Ninja (La-la-la-la-la-la-la-la-la-la-la-la, you know you can do it)
The House of Lanvin, House of Telfar
House of Ladosha, House of Mugler (Go with the flow, you)
The House of Balenciaga, the House of Mizrahi-i-i-i-i (Go with the flow)
Hehehehe (You know you can do it)
Yeah, yeah (La-la-la-la-la)
(La-la-la-la-la-la-la-la-la-la-la, oh, ooh, oh, yeah, you know you can do it)