Popular, il nuovo singolo di The Weeknd e Madonna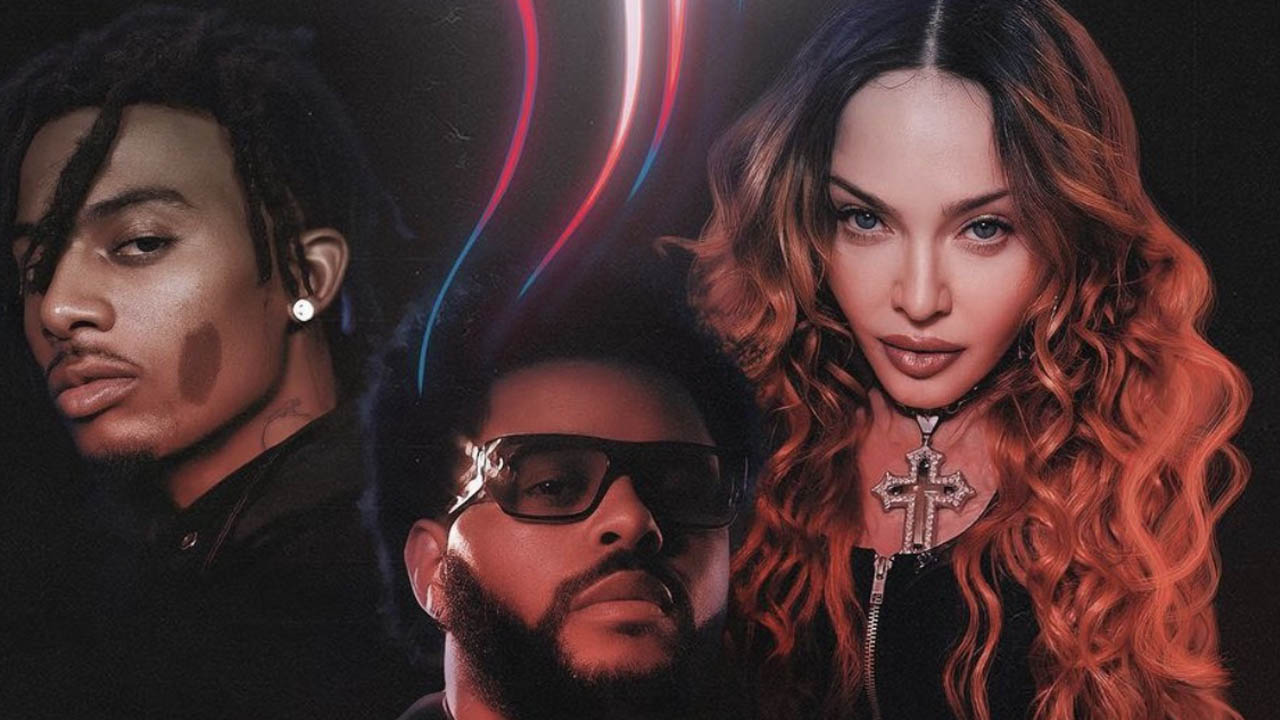 The Weeknd ha pubblicato il suo nuovo singolo, Popular, si tratta di una collaborazione con Madonna e Playboi Carti . Il pezzo farà parte della colonna sonora della serie HBO The Idol (creata, prodotta e co-scritta proprio da The Weeknd) e sarà incluso nell'album The Idol Vol. 1, in uscita il 30 giugno. Piacevole, peccato che la regina del pop si senta troppo poco.
Adesso non ci resta che aspettare Vulgar, decisamente più interessante, almeno dall'anteprima…
.@samsmith and @Madonna's #Vulgar out on june 9th, 2023#Madonna #SamSmith #TheCelebrationTour #MadonnaCelebrationTour pic.twitter.com/AmMxxv99J0

— Madonna Records (@MadonnaRecords) June 2, 2023
The Weeknd, Madonna, Playboi Carti, Popular, il testo.
I've seen the devil
Down Sunset, in every place, in every face
Yeah, uh, uh
Tell me, do you see her? (Yeah) She's livin' her life (Uh)
Even if she acts like she don't want the limelight (Uh, yeah, uh, uh)
But if you knew her (Yeah, uh), she lives a lie
She calls the paparazzi, then she acts surprised, oh
Oh, I know what she needs (Oh)
She just want the fame, I know what she fiеnds (Oh)
Give her a little tastе, runnin' back to me (Oh)
Put it in her veins, pray her soul to keep, ooh, ooh
Every night (Every night, uh), she prays to the sky
Flashin' lights is all she ever wants to see
Beggin' on her knees to be popular

That's her dream, to be popular (Hey)
Kill anyone to be popular
Sell her soul to be popular
Popular, just to be popular (Oh)
Everybody scream 'cause she popular (Hey)
She mainstream 'cause she popular
Never be free 'cause she popular
I know that you see me (Oh), time's gone by
Spent my whole life runnin' from your flashin' lights
Try to own it (Uh), but I'm alright (Yeah)
You can't take my soul without a fight (Uh, oh)
Oh, I know what she needs (Oh)
She just want the fame, I know what she fiends (Oh)
Give her a little taste, runnin' back to me (Oh)
Put it in her veins, pray her soul to keep, ooh, ooh
Every night (Every night), she prays to the sky (Oh)
Flashin' lights is all she ever wants to see
Beggin' on her knees to be popular (Uh)
That's her dream, to be popular (Hey)
Kill anyone to be popular
Sell her soul to be popular
Popular, just to be popular (Uh)
Everybody scream 'cause she popular (Hey)
She mainstream 'cause she popular
Never be free 'cause she popular
[Post-Chorus: Playboi Carti & The Weeknd]
Money on top of me, money on top of her (Uh)
Money on top of me, money on top of her (Uh)
Yeah, shawty f with me 'cause she know I'm popular (Uh)
Yuh, shawty f with me 'cause she know I'm popular (Uh)
Money on top of me, money on top of her (Uh)
Money on top of me, money on top of her (Uh)
Yeah, shawty f with me 'cause she know I'm popular (Uh)
Yeah, shawty f with me 'cause she know I'm popular
I'm gettin' money and I'm keepin' it
I'm gettin' cash and I'm keepin' it
Money on top of me, money on top of her
Yeah, shawty f with me 'cause she know I'm popular
Pop-popular, born to be popular
She in debt, twenty mill', but she run it up
She can never be broke 'cause she popular
Turn the webcam on for the followers (Hahahaha)
Beggin' on her knees to be popular
That's her dream, to be popular (Hey)
Kill anyone to be popular
Sell her soul to be popular
Popular, just to be popular (Uh)
Everybody scream 'cause she popular (Hey)
She mainstream 'cause she popular
Never be free 'cause she popular